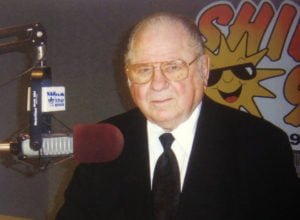 Vernon J. Kaspar, 95, of Frankfort Indiana died in his sleep at 2:47 Friday morning January 5, 2018, at Milner Community Healthcare, Rossville, Ind. Vern was born on January 15, 1922, in Sioux City, Iowa to Charles and Alma (Goering) Kaspar. He married Lillian Lundgren on September 2, 1944, and she preceded him in death August 20, 1999.
Vern Kaspar graduated from Iowa State College in 1945 with degrees in Physics and Engineering. A veteran of World War II, he enlisted in the Navy and completed officer training school at Princeton and Columbia in 1945.
In the early 50's Vern Kaspar was in a management position at the only TV station in Iowa at the time, WOI Des Moines. By the late 50's Vern and Lillian Kaspar purchased WILO AM 1570 at the age of 39.
Kaspar Media now includes some 10 AM/FM/translator stations in Indiana and Missouri and other holdings.
Vern and Lillian Kaspar traveled extensively with other members of the press and personally interviewed world leaders including Saudi King Abdula, Yasser Arafat, Bishop Tutu, Poland president Jaruzelski, King of Jordan, and Dwight D. Eisenhower. Vern Kaspar traveled behind the iron curtain before its fall and visited Cuba and editorialized to open up relations there before Clinton did the same. He broadcast on the radio from Havana, Cuba.
He had many interests. Vern Kaspar visited 61 countries and enjoyed learning something each day. He enjoyed observing national and international politics and delivered hundreds of editorials on WILO, WSHW, KWRE and KFAV over the years. He was an advanced extra Amateur radio operator and able to send and receive Morse code in excess of 60 words per minute.
Vern Kaspar was inducted into the Indiana Broadcasters Hall of Fame in October 2004. He was a former board member of the National Broadcast Editorial Association. At the age of 13, he received his FCC License, and he is most likely holding the oldest FCC license in the United States of America. He was a 32 degree master mason and was widely known for his generosity.
Family: 3 Sons: Victor (Karen) Kaspar of Dunn, NC, Steven (Pat) Kaspar of Warrenton, MO, Russ (Susan) Kaspar of Frankfort, IN, 10 Grandchildren, Dawn (Sam) Constance, Don Boisvert, Kelli Jo Kaspar (Bill) Shroyer, Justin (Kelly) Kaspar, Michael (Lindsey) Kaspar, David (Michele) Kaspar, Benjamin (Megan) Kaspar, Ryan (Fiancee Lafayette Deon Kelly) Kaspar, Alex Kaspar, Trevor Kaspar, 16 Great Grandchildren and 1 Great Great Grandchild. 4 Nieces also survive. Preceded in death by his parents, a brother, Raymond Kaspar, infant daughter, Susan Kaspar and granddaughter, Angela Kaspar.
---
---